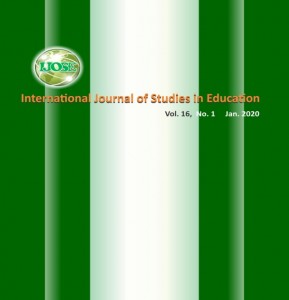 IJOSE is a peer-reviewed international journal published by the Faculty of Education, University of Nigeria, Nsukka.
INTERNATIONAL JOURNAL OF STUDIES IN EDUCATION (IJOSE)
The Editorial Board of IJOSE welcomes articles of relevance to Education and Humanities. Articles should not exceed 15 pages including references on A4 paper typed double-spaced on one side only.
The title should be brief (16-20 words). Author(s) name(s), affiliation(s), Department and University and an email address for the corresponding author should be typed on a separate page/sheet and attached to the article.
Authors are encouraged to include relevant diagrams, graphs, tables, figure captions, photos to illustrate the articles and the pages numbered consecutively with a brief descriptive heading/caption. All materials except photos and diagrams should arrive in words and should conform to the 7th edition of APA format. Diagrams and graphs should be provided as finished black and white line artwork or electronic images, which must be inserted in the manuscript as appropriate. Manuscripts should be typed in Microsoft word format with text in Times New Roman font 12 points and 1.5 line spacing. Margins should be 2.54cm or 1 inch all round.
The text of the article should be divided into unnumbered sections (e.g. Introduction, Method, Result, Discussion Conclusion/Summary, References, Appendix in that order). Secondary headings may be used for further submission.
Figures should be clear black/white original inserted at the appropriate place in the text. Grey or coloured shading must NOT be used. Information should not be duplicated in text and tables. Each table/figure must be referred to in the text by number. Authors must use the decimal point in all members, in the text and table, and not the decimal.
Papers should be submitted (Three (3) hard copies) with an article processing charge (APC) of N5,000.00 (Five Thousand Naira) or its dollar equivalent.
All manuscripts should be sent to Dr. Joseph C. Onuoha
e-mail addresses: editor.ijose@unn.edu.ng and support.ijose@unn.edu.ng